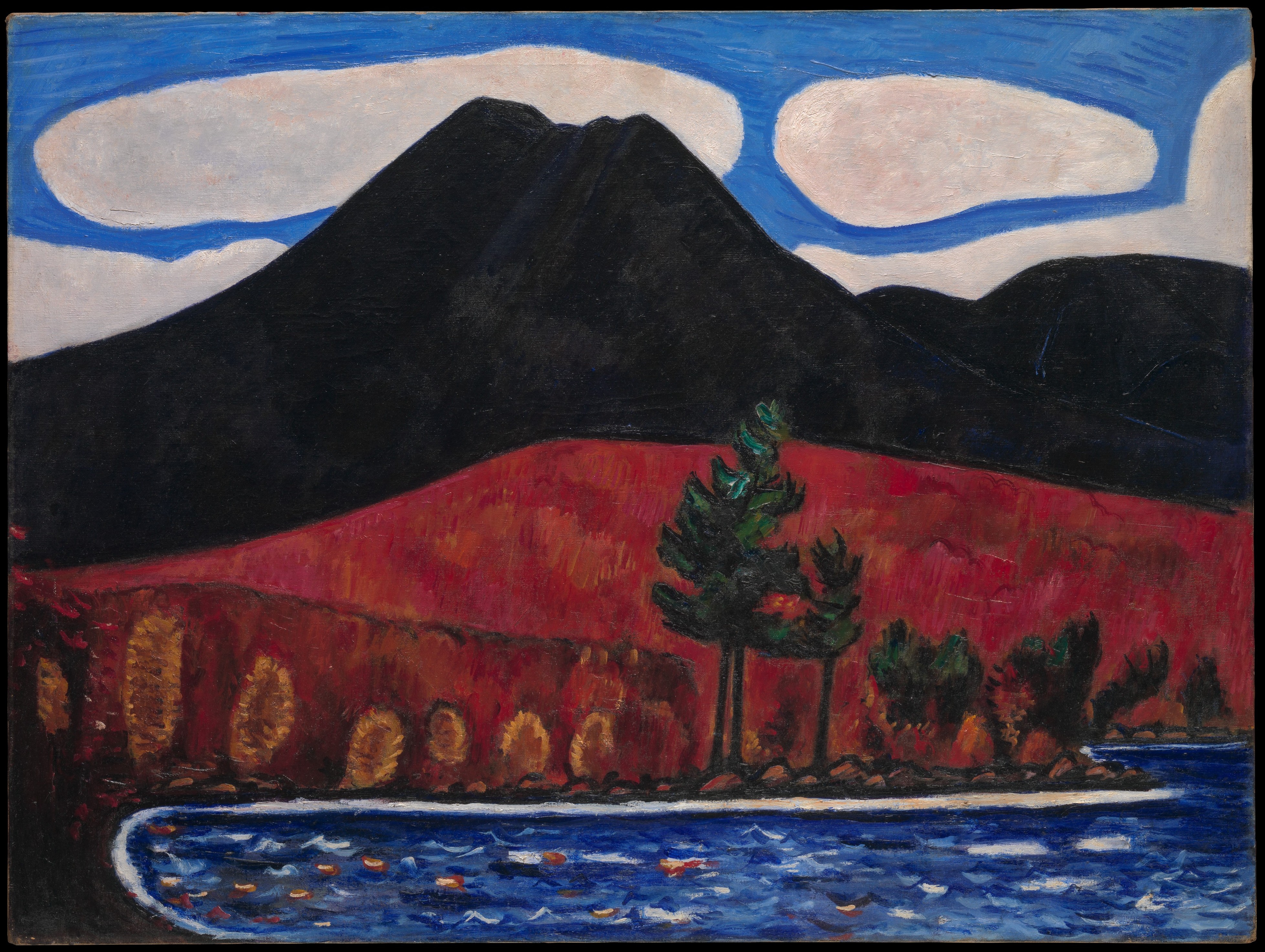 Marsden Hartley, Mt. Katahdin, Maine, No. 2, 1939-40
30.25 x 40.25 in.
Marsden Hartley (1877-1943) was an American Modernist painter, as well as a writer. Hartley was born in Maine and began studying art at the Cleveland Institute of Art when his family moved to Ohio. When he was twenty-two Hartley moved to New York City to study at the New York School of Art. In 1909 he had his first solo show at Alfred Stieglitz's 291 gallery. In 1912 Hartley traveled to Europe, first befriending Gertrude Stein and her circle, before moving on to Berlin. There he befriended Wassily Kandinsky and Franz Marc and Hartley's style developed into a powerful combination of Cubism and German Expressionism. He began painting the
pomp and pageantry of Germany's militarism
and these paintings were exhibited in the landmark 1913 Armory Show in New York. However, Hartley's view of German militarism changed when World War I broke out, when war became no longer "a romantic but a reality." In 1914, Hartley's close friend, whom he is thought to have been in love with, Karl von Freyburg, was killed in battle and Hartley was devastated. The experience produced his best known painting,
Portrait of a German Officer
, which expresses his pain over his friend's death as well as feelings about the destructiveness of war; Freyburg's posthumous Iron Cross is featured prominently. Hartley returned to the United States in 1916, though he left again in 1921. When he moved back permanently in 1930 he traveled extensively and painted all over the country. He returned to Maine in 1937 and spent the rest of his life there. This view of Mount Katahdin is a fascinating interpretation of the landscape, one of eighteen that Hartley produced. Mount Katahdin is the highest mountain in Maine and the northern terminus of the Appalachian Trail. This flat and rough depiction simultaneously reduces the scene to its most basic forms, while also conveying its expanse and impressiveness, its grandeur and importance. The flat plane and bright colors also align the piece with folk art, a development in Hartley's work that was praised as thoroughly American.